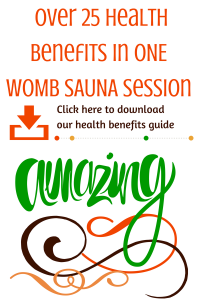 Where Did Vaginal Herbal Steam Medicine Come From?
Thema Azize Serwa is sounding an alarm that ancient vaginal herbal steam medicine has an effective place in modern medicine! She is truly in her pioneering moment through creating The Womb Sauna experience, which offers a life-changing, sacred expression of vaginal steaming.
The concept of combining herbs and steam for medicinal use for the vagina and reproductive system, can be traced back centuries ago to indigenous African, Mayan, Native American, Caribbean, and Asian cultures. An example of the practice is when elder women of African tribes would bury holes in the dirt, place barks and herbs in the hole, light them, and have young women squat over the steam. These types of practices were done for various ceremonies such as marriage or childbirth and also for medicinal use.
What is The Womb Sauna Experience?
In many ways, our vaginal steam experience is a ritual as well. For some women that means escaping the kids for a few hours, crying and releasing traumas from the past, singing and praying for the next big breakthrough, laughing about life… Our client's explain best what a Womb Sauna experience is. Our Certified Womb Sauna Practitioners are trained to support women in getting to the root cause of not only any womb imbalances, but life imbalances. There is a direct correlation between womb health and a woman's fulfillment with her life.
Our clients get the VIP treatment through…
Having a private, intimate 1-on-1 session with their Womb Sauna Practitioner
A coach the entire session to support their body, mind, and spirit during the detox
An energy-based vaginal steam experience integrating crystal and healing touch therapies as well as sacred movement
Services at their home or at one of our Womb Sauna Practitioner's locations
A customized womb healing regimen with accountability and tools to use in between each session
So, what happens at your appointment?
Your Womb Sauna Practitioner will confirm your payment and send you an electronic client intake form to ensure that they can properly prepare for your session. On your appointment day, your initial consultation is completed. Prior to getting in the sauna, you are taught stretches and yoga postures that support opening up the hips, increasing circulation to the womb, and removing tension in the back and pelvis.
You will then sit on an open chair, covered with our sauna capes. Throughout the session our trained practitioners administer your aromatherapy, crystal therapies, and breathwork. The Womb Sauna provides a full body sweat and as the pores open, the skin absorbs the herbal steam. Your release happens physically, mentally, emotionally, and spiritually and can last up to 3 days after the session. All clients receive the Womb Sauna's Triple Potency formula of herbs to support metaphysical, spiritual, emotional, mental, and physical healing.
Who Should Receive the Womb Sauna Vaginal Steam?
The Womb Sauna services women from all walks of life and even children who have entered puberty. Our clients have ranged from age 7 to 60+. In addition, the Womb Sauna is a service that helps prevent and treat imbalances. Many women with reproductive disorders like infertility, fibroids, PCOS, and more have immediate benefits from just one Womb Sauna session. In addition, women in good health also receive immediate benefits as well and notice that they have more energy, freedom, and better management of stress.
I am interested in experiencing the Womb Sauna with a group of women…
The Womb Sauna does tour worldwide, helping hundreds of women understand their WombStory and heal themselves. If you are interested in coordinating an event please click here.
I have more questions and I am excited about setting up my first Womb Sauna session!
Many questions can be answered on our FAQ tab. You can set up your appointment with Thema Azize Serwa by clicking here, find a Certified Womb Sauna Practitioner in your area by clicking here, or call 1-888-576-WOMB.