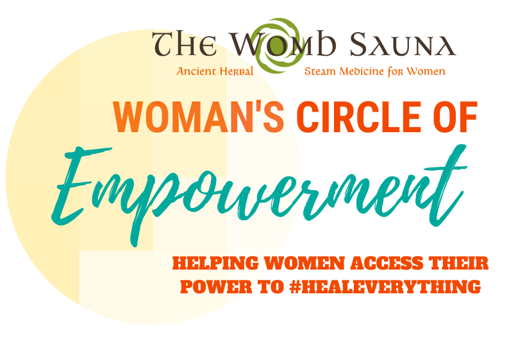 You are tired of trying to keep up with all of the information you need to heal the womb of your mind, womb of your body, and womb of your spirit. And… if you are honest… you have more than enough information, but not enough implementation.
You don't have to heal alone.
The Womb Sauna is excited to create a community of women dedicated to healing. We are re-socializing the modern woman by changing the old stories of feeling alone, misunderstood, and isolated. Enrolling in this tribe is one of many steps that will transform your life. So often we know what we need to do, but we get stuck. We try to do too much alone.
The Woman's Circle of Empowerment is an intimate, committed, in it to win it, group of women who create a covenant of trust and accountability.
We unveil.
We are present.
We are diligent.
We are supportive.
We heal. The Woman's Circle of Empowerment is founded on the principle that healing your womb, transforms your life. We are teaching women the power of what happens after "the pot": a womb sauna yoni steam experience. The more healing moments you have with support and accountability, the more empowered you become.
In this community you walk through 20 On-Demand courses available 24/7 that will help you become impeccable with your womb care. They are deeply life transforming.
In addition, you get these nurturing doses of empowerment with RevHigh Priestess Thema Azize Serwa on the Womb Healing Calls that have been transforming women's lives worldwide for over 5 years.
We are a community that nurtures and nourishes the mind, body, and spirit of women. Our curriculum is designed for your consistent, exciting, personal and social development.
Get ready to position yourself for an amazing journey with women just like you! We are living, being, and cultivating a legacy of feminine power, womb wisdom, and grace. Is it work? Yes. Will it change your life? Absolutely!
---
Click here to read our Introductory Guide & view the 20 Womb-Care Centered Course Catalog >>
Click here to join the WCOE and journey with us through our weekly Womb Healing Calls & Womb-Care Course Catalog >>