Biography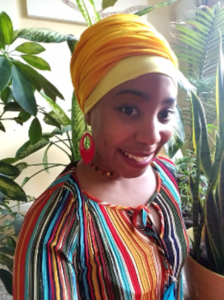 Peace and Light Beautiful,
I'm Sunny Majeedah and I believe a woman's wellness is a reflection of her womb health. I've been on a journey to connect the pieces of mystery and history of my womb story.  And I want you to get to know yours as well!
It wasn't until I became a wife and mother of 5 that I noticed a pattern in my health that revealed itself as fibroids, estrogen dominance, fluctuating moods, anxiety, depression, weight gain and the overwhelming burden of constant stress. My day to day story was simply fatigue: tired of feeling unwell, tired of not knowing why, tired of life happening to me, rather than living an authentic life I loved. This discovery that there was a deep connection in my physical health and my spiritual, emotional and social health was the beginning of my awareness of the story of my womb and it's wisdom. How could I continue to ignore her, when right in the center of my being was the power I needed to reconnect to life and give life.
Fascinated with this discovery I went on to study women's  health and implemented it slowly and meticulously over the years. My education spans decades and I believe in applied knowledge and not just accumulated courses. For me that means learning it, living it, then teaching it. It's rare that you'll find me teaching a topic that I don't have a connection to or experience with. My path to professionalism includes a mixture of academic scholarship and life experience that I'm proud of. This keeps me grounded, relate-able, practical and knowledgeable enough to help and inspire you to heal your own body
I created  and own Root Cause Root Care  and my signature Wombaya women's circles to provide education, support and sistahood. I'm a Functional Diagnostic Nutrition practitioner specializing in hormone imbalances and I use functional lab testing to remove the guesswork and get to the root cause of your most pressing health issues. Then I develop a personalized protocol using herbal and all natural remedies as well as the Womb Sauna method of vaginal steaming.
It's important to understand that I intend to play only a small role in your team of wellness providers including your physician, physical trainer, herbalist, spiritual advisors, family counsel and most importantly, YOU! I believe you are the leading lady making the informed decisions and putting in the effort to heal you whole being and transform your life! Let's connect today, I'd be honored to serve you!
Education and Experience:
Functional Diagnostic Nutrition practitioner
Women's Herbal Medicine (Dr. Aviva Romm, direct training)
Integrative Women's Health Coach (Institute of Pelvic Health)
Eating and Food Psychology coach (IEP)
American Association of Drugless Practitioners (AADP)
Married 19 years, 5 children ages 8-18, Homeschooling advocate
Natural home/ water birthing, extended breastfeeding advocate.
Birth education, birth workers, midwife and doula supporter.
Lover of all peaceful, happy, sun-shiney, unifying, coexistence!